It's not such an uncommon sight anymore to see a man conveniently carrying his belongings around in what is often referred to as a "man bag".  In fact, bags for men have become a hot commodity, and designers are putting as much creative thought into the styles and types of carriers for men as they are into purses for women.  So what's in right now in the world of men's fashionable bags?  We'll take a look at some of the hottest trends hitting the market.
Backpacks
These aren't your typical hiking or school bags; backpacks have come a long way and can take you from office to evening in finishes like leather, soft suede, canvas, and brushed cotton.  These are some of the most convenient to carry; they can be worn on your back whether you're walking, biking, or even hopping on your motorcycle, and depending on the size, can carry a lot of weight.  The colour trend for the most part veers towards earthy colours of muted greens, browns, grays, and black, but you'll also see some bright yellows and creams.
Drawstring
Although a backpack can be dressed up or down depending on the material and design, if you're looking for something a bit more casual, consider a drawstring bag.  The style is reminiscent of a small gym bag and can certainly be used as one, but in a leather finish, you may want to consider making it your "take it to work" or even "night on the town" bag.  While this type of bag can still carry much of the things you'd want to take with you, it has a more laid back, easy appeal.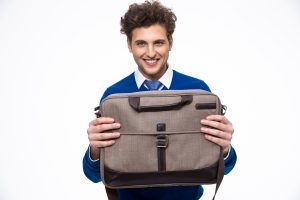 Weekend Bag
Also dubbed "Utility bags", these are a fantastic and versatile option for both taking to the office and packing all of your needs for a weekend out of town. The duffel style is far more sophisticated than its predecessors, less slouchy and far more apt to fit in at important business meetings.  Look for a weekend bag that will go easily from one event to the next with removable zippered pockets and tablet or laptop pockets.  These can be used during the workweek as needed and then removed when your bag needs more space to accommodate clothing and toiletries.
Messenger Bags
A messenger bag can take your style straight to the top, especially if you make in the investment into soft leather that will stand the test of time.  A canvas messenger can be great for a more casual, summer spin, but a leather bag will give you a more upscale, professional look.  Comfortably worn across the body or simply over the shoulder, a messenger bag can be an easy way to take your laptop and other business essentials from home to office.
Folios
If you're on the lookout for a simpler carrier, consider a folio or pouch.  Easy to carry and a stylish way to protect important papers, your phone, and even a tablet, a folio, or pouch in a sleek, dark leather can be the perfect and practical way to finish off your professional appearance.