A designer bag can be the difference between an outfit that is banging on or one that has missed the mark entirely.  The right bag offers not only functionality but shows that you're a woman of taste and a force to be reckoned with.  We're all busy, but think about the woman rushing off to her appointment, cell phone in one hand, papers in the other, lipstick and powder jammed into the most convenient pocket and likely to be lost or cracked by lunchtime.  Now picture that same woman, a Hermes bag caught on her wrist, delicately hiding away any necessities and bringing her to look from harried to heavenly.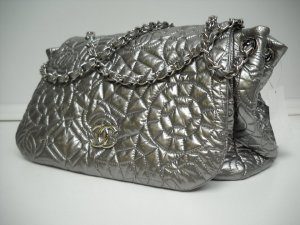 Beat the winter blahs with bright spring colours.  With our Hermes, Burleigh, and Kelly bags, you're ready for an updated, fun look.  Our designers work with your needs in mind, whether you're heading to the office, a garden party in a flowing dress, or gearing up for your gym workout.  Our bags will give you the polish your looks needs and will be a centrepiece in your closet for years to come.
Here are some of the best reasons to avoid cheap knockoffs and invest your money where it can give you the best return;
A designer bag shows that you're a woman of good taste, and you know how to put an outfit together to suit the occasion. This can even increase your credibility and bring a perceived sense of capability on the job or in a meeting.  It can be a great way to increase your professional look and get you noticed.
Your look will instantly be elevated by a gorgeous spring bag, whether you've decided to wear jeans and a t-shirt or you've opted for a dressier shirt and heels. A good bag will allow you to change your wardrobe and can compliment you in all of your options, making it one of the most versatile accessories in your closet.
Designer bags are built to last a long time, and they've become heirlooms along with precious family stories. When you consider the difference in price between a bag that you'll have to replace after a season due to wear and compare to one that you've invested more into but will be with you for years to come, a designer bag can be the most cost-effective option.
This spring has brought on some bold colors and materials.  On the runway, you'll find supersized hats and wide headbands while in the handbag department, some designers have veered entirely in the opposite direction.  Think tiny, micro handbags like the Hermes offering of a Thumbelina-like matchbox purse.  Travel and duffle bags are also hot for spring, this year in a wealth of bright, floral designs that serve as both fashion statement and a practical accompaniment.  Expect to see the metallic chain as straps, and the continuation of adorable bag attachments – in tassel, pom, and some creative shapes, in a variety of different materials. Visit Extoggery, your choice in Men's and Women's Clothing.